Background
The Buffett Institute's global engagement team was focused on undergraduates at Northwestern. Since the Institute's 2015 gift, the team had quickly expanded its offerings for students but expressed frustration that the program felt disjointed.
Indeed, as the person managing the website, the program had begun to feel a bit like Frankenstein's monster. As the program grew, there was no methodical way to integrate new content.
I saw two primary problems:
The program wasn't articulated in a way that made sense to students

Content wasn't organized with the user in mind, so students weren't finding what they needed on the website, as evidenced by the bounce rate and amount of time spent on pages
Plan:
Over two months, I worked with their team to accomplish a few things:
I sifted through almost a decade of past mission/vision statements and past priorities/goals and worked through strategy exercises to come up with a new way to talk about the program that not only accurately represented the program's current offerings, but did so in a way that minimized academic jargon and could be easily understandable to their audience: students.

With that messaging in hand, I then overhauled their section of our website and collaborated to create new marketing materials. Highlights included:

Publicly stating their mission for the first time. As an organization focused on social justice who sought to appeal to a specific kind of student, this was key.

Top-level navigation that summarized the group's priorities (community-engaged scholarship, professional development, and funding) and makes immediate sense to a student looking for what they need

For key programs, adding dedicated pages and clear calls to action to monitor traffic and conversion to track progress (see Community-Based Research Fellowship).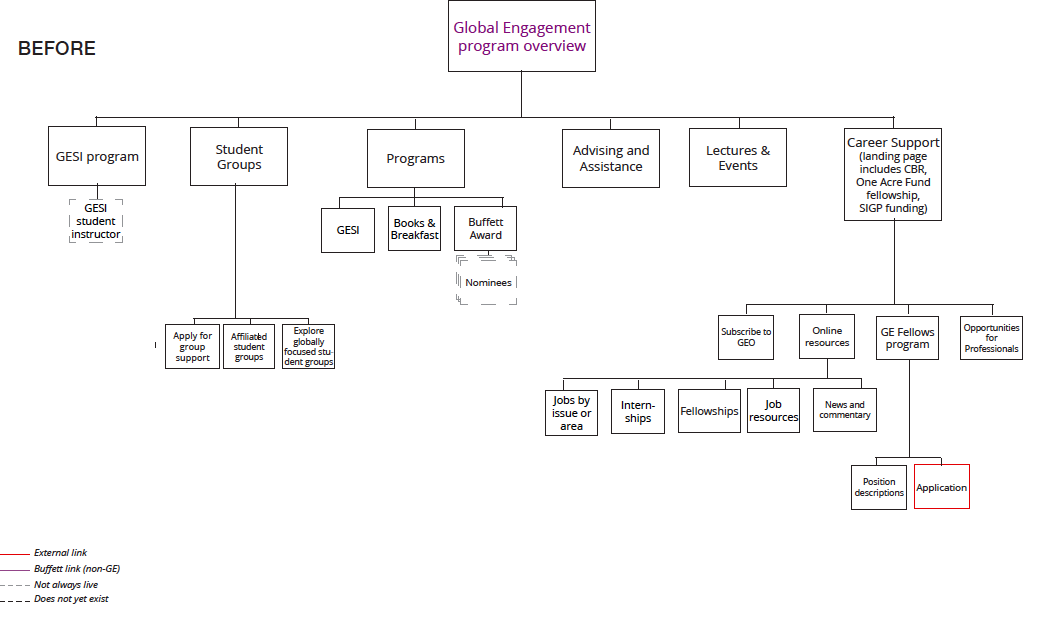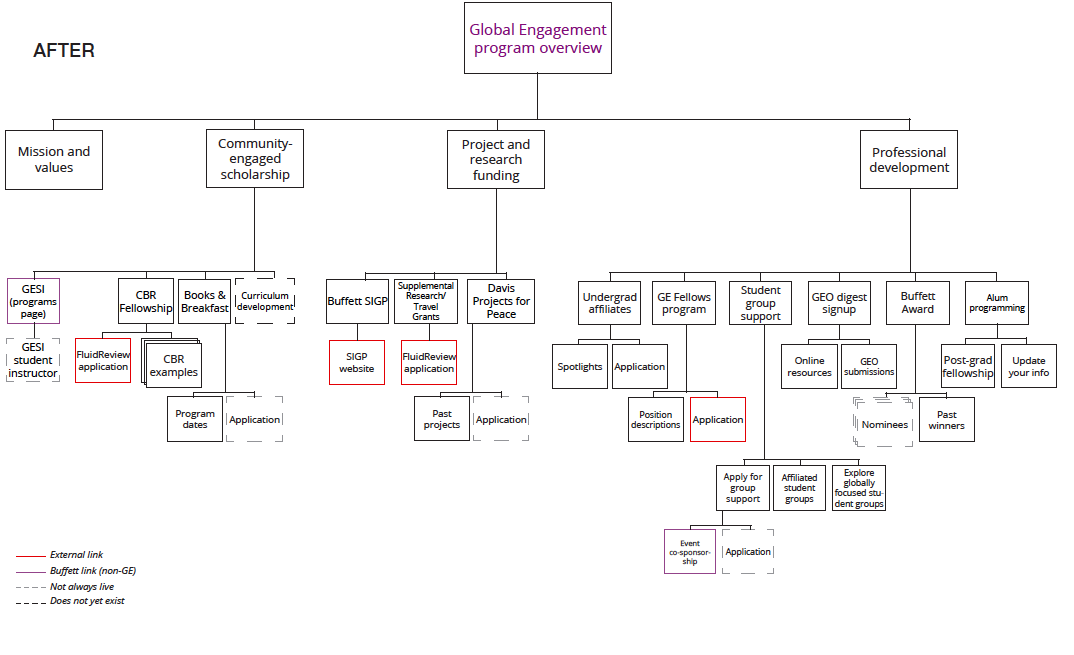 Results:
New marketing collateral (brochure, web and social messaging) that could be used to help anyone across campus understand the Buffett Institute's undergraduate programming

Overall improved performance of the Global Engagement section of the website: there was a 63% YOY increase in traffic for the section. Users spent 18% more time there, and there was a 10% drop in the bounce rate.

While the numbers should be taken with a grain of salt because new pages were created, it is apparent that clearly written, dedicated, well-organized pages for their programming paid off.

The website has been easier to scale because each new page should fall into one of the three top-level folders (which are also their priorities). If it doesn't, it prompts conversation on whether the activity makes strategic sense. Any conversation about strategy alignment is a win in my book.

Enrollment for student programs like CBR and GESI study abroad have increased every year since.